Uveitis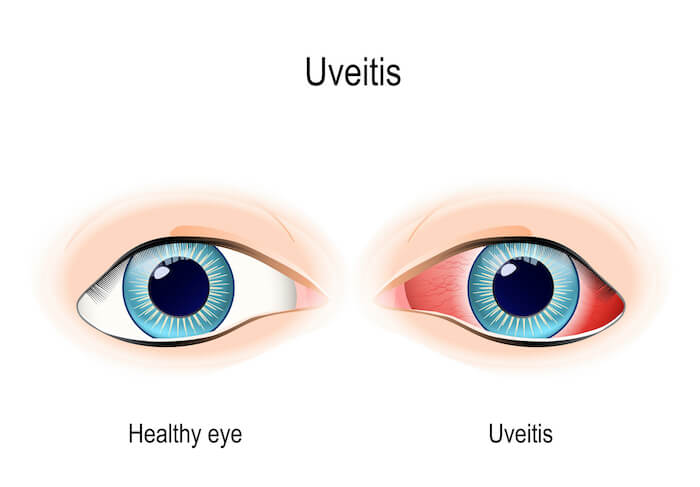 Uveitis is an eye condition where there is inflammation inside of the eye which originates in the part of the eye called the uvea. Some patients may not notice symptoms of uveitis and the condition may go unnoticed for several weeks or months. Other patients will notice the symptoms of uveitis and think they have "pink eye" until the symptoms become severe enough to seek medical assistance.
The symptoms of uveitis may include pain, redness, sensitivity to light and reduced vision. With treatment, uveitis can completely resolve. In severe cases of uveitis, the condition may be difficult to treat because they are long- term or chronic and the patient may have sight threatening inflammation involving other structures in the eye.
Severe cases of uveitis, if left untreated can cause permanent damage to your vision.
Posterior uveitis can cause dense floaters, distortion, or gaps in your vision. It can also cause difficulty with your color vision and seeing at night. Posterior uveitis may affect one, or both of your eyes. Posterior uveitis tends to heal more slowly and may require long-term treatment.
If you have chronic or recurrent uveitis you will need regular check-ups with your eye doctor.
Treatment for posterior uveitis can differ from person to person. Your retina physician will need to determine the cause of your uveitis to plan your treatment. If your uveitis is not caused by an infection, most commonly you physician will treat your condition with steroids.  
Oral corticosteroids may be prescribed in cases in which a patient has an inflammatory condition in another area of the body.
You may be given topical steroidal drops and cycloplegic eye drops to treat your eye(s) and to calm the inflammation. Your physician may also treat your uveitis with injections of steroids around or in the eye.
A small implant of steroid can also be injected in the eye to continually release steroid medication in the eyes. Steroidal implants are usually used in one eye but can be used in both eyes. Immunosuppressant therapy may be recommended if other treatments are not successful, or if you are experience difficulty with other medications. In rare cases, surgery may be required to treat uveitis.
If your uveitis is caused by and infection, your physician may treat you with a combination of, steroids, antiviral medications, and antibiotics.
Complications of uveitis include:
Elevated intraocular pressure
Cataract
Floaters
New blood vessel growth
Retinal detachment
Macula edema